Michael Bernard Beckwith
Founder, Agape International Spiritual Center in Los Angeles
Featured in the documentary The Secret. He has been a featured guest on Larry King Live on CNN, and The Oprah Winfrey Show.
Author of: Spiritual Liberation; Fulfilling Your Soul's Potential and Life Visioning.
*I highly recommend Dr. Beckwith's teachings, I listen to his Sunday services as they are sent out on CD weekly. The message is always healing and inspirational. Dr. M.
The doctors at HealthSmart are one-of-a-kind practitioners of NUCCA. The uniqueness and potency of the atlas adjustment is such that you don't have to return again and again. When I'm in Chicago, I never miss the opportunity to have an overall evaluation at HealthSmart.
Tony Schumacher
6 Time World Top Fuel Champion
The first driver in NHRA history to win 5 consecutive TF championships
2008 Driver of the Year
Holds the record for the lowest 1/4 mile ET at 4.428 and the fastest speed of 336.15 MPH
"In October 2000, I was involved in a horrific race car accident at a speed exceeding 300mph. My left leg was broken in 6 places, 6 fingers were dislocated, and I had a very serious concussion…I tried everything from standard chiropractic, medical care, and acupuncture to water training to regain my strength and focus…After just one visit at HealthSmart, the color returned to my face and my dizziness and concussion were gone.." I regained my health and was able to get back to racing, which is what I love to do.
Angie P.
I started coming to HealthSmart because of shooting pains up my neck into my head. Within a short time, they were gone and I began to go routinely just for maintenance. I'm a homeschooling mom, so my kids travel everywhere with me. I didn't think much about ever having them tested. I guess I just figured my problems came from "experience" and they had youth on their side! The doctors at HealthSmart would on occasion remind me that I should really have their alignments checked.
I finally decided that it would be a good idea. Much to my surprise, two of the four were out of alignment. The oldest one is twelve and has been receiving treatments for about two years now. She will tell me "mom, we need to go to HealthSmart because I feel that I need an adjustment!". My seven-year-old was recently having neck pain and a popping sound in his neck when he would look up. When he was on the anatometer, it was very obvious the distortion in his alignment. We have recently started treatment for him and he remarked how great he felt after the initial adjustment. I will continue to bring them to Healthsmart and am grateful to have found such a way to keep my kids healthy. I would urge any parents to take their kids for a consultation.. It has made a great difference in all of our health!
Principal Harpist
Chicago Sinfonietta/Joffrey Ballet Orchestra
"I have experienced different forms of chiropractic over the years and between the rough procedures and lack of results I couldn't tolerate it. My adjustment at HealthSmart has helped me tremendously, especially as a professional musician. My posture has improved, I feel much looser in my shoulders and neck, and generally healthier overall. Hooray for HealthSmart!!"
Paul Chek MSS, HHP, NMT
World-renowned expert developing practical and effective methods for all aspects of physical and mental wellbeing Author of the best-selling books "How To Eat, Move and Be Healthy", "The Last 4 Doctors You'll Ever Need – How To Get Healthy Now!", and "The Golf Biomechanics Manual: Whole In One Golf Conditioning"
As a practicing clinician, I find it vital to the healing process to recognize that the upper atlas/axis complex serves as a vital interface between the head and body. Every single nerve in the spinal cord below the skull passes through the foramen magnum. The altas being the vertebra with the least ligamentous support, as well as being influenced by ocular, masticatory and auditory dysfunction often become sublexed, resulting in loss of an optimal instantaneous axis of rotation during normal head and body movements.
This results in compression, torsion, and sheer forces being transmitted to the cord via the dentate ligaments. The effect of such subluxation is an alteration of ascending and descending information in relevant cord tracts, frequently producing pain and dysfunction at sites distant to the etiology, such as low back pain, hip pain, knee pain, foot/ankle pronation, and a number of seemingly unrelated symptoms in the domain of the cranial nerves, which are routinely treated with drugs by allopathic practitioners. Having an extensive background in the treatment of head, neck, and jaw disorders, orthopedic disorders, and the conditioning of world-class athletes, as well as having worked very closely with the doctors at HealthSmart, I have been able to coordinate and facilitate the recovery of literally HUNDREDS of patients that had seemingly hit a dead end in their road to recovery! For those of you wanting to facilitate a complete recovery of any patient, friend, relative, or even yourself, I strongly suggest an evaluation by a NUCCA doctor. Until you have a fully functional upper cervical spine, your rehabilitation program is far from complete!
Christopher Titus
Comedian, Actor, and Writer Starred in Fox's Titus, ABC's Big Shots, Comedy specials on HBO and Comedy Central
After suffering from a lifetime of respiratory problems and a body beat up by extreme sports I didn't even know what it was to feel good. I lived with aches, pains, and recurrent health problems that I thought were normal. After my first adjustment when I was sure nothing was happening because it was so light, I felt immediately better.
In a short time, I not only felt better than I ever thought was possible but my respiratory problems were completely resolved. I continue to tell so many people about the doctors at HealthSmart and the work they do and let them know that if they don't get their spine corrected, they are making a huge mistake. I travel over 2000 miles to get adjusted because my life and health are worth it.
Kelly H.
I was on the high school swim team performing and training for a state competition when I developed pain in my middle back. I went to HealthSmart and the doctors not only understood and explained why I was having the pain but showed me how my posture and spine were very distorted from an optimal athletic position.
Immediately after my initial correction, I started to feel better as the muscles in my back loosened up. The immediate benefits in my body's postural position were so great that my swimming improved dramatically. I took 8 seconds off my 200-meter IM and 20 seconds off in my 400-meter freestyle in a single season. I also felt a huge increase in endurance. At the state competition, I went on to win in the 50 yd Freestyle and placed 3rd in the 100 yd Freestyle.
I am so glad to have had the opportunity to perform at my best with the help of Dr. Dickholtz. I would recommend this to every young athlete who desires to feel great and perform at their best.
Katrina R.
My daughter Alyssa was the first in our family to go to HealthSmart due to nerve irritation she was having in her head and legs. As a mother, it is hard to see your child upset day after day and not know what is wrong. After just a couple of adjustments, my daughter is back to being the happy 11-year-old she should be. Not only did these adjustments correct the nerve problems but she no longer suffers from seasonal allergies.
I was so encouraged by my daughter's results that I too began care. After a few adjustments, I felt better than I ever thought I could feel. Then I woke up one dreary rainy morning fully expecting to feel miserable from allergies and they were gone. I could not wipe the smile off my face and was literally dancing with excitement. I cannot thank the wonderful staff at HealthSmart enough for what they have done and will for the rest of my family.
Micheal M.
I was referred by a friend to come to HealthSmart for my headaches. I had been living with headaches and ringing in my ears for years. I was very hesitant to come see the doctor because I had on a regular basis seen a chiropractor that would crack and pop my neck with little relief. I was living on a daily basis on an excess amount of extra strength Tylenol to get through the pain of my headaches. Within minutes of my first adjustment, the ringing in my ears stopped, and my headache was gone. I'm a huge supporter of HealthSmart. I tell everyone I meet about the doctors at HealthSmart.
Suzanne Tressel
I am pleased to encourage those with persistent pain or long-term health problems to consider NUCCA Spinal Care. It is easy to function in an apathetic way, not knowing how to get better. I experienced debilitating back pain and overall dizziness for many years. I was diagnosed with Meniere's Disease and experienced severe vertigo. After surgical removal of my left inner ear, my vertigo ceased, but I was continually challenged by unsteadiness. At the same time, I was in constant back pain.
I received my first correction for my spinal misalignment through painless manipulation and I was immediately steady and not failing to the right anymore. My back pain lessened and I am now able to function so much better.
I am exceedingly grateful to my friend who recommended HealthSmart and NUCCA Spinal Care. The doctors are sympathetic to their patients and very professional. They are highly competent leaders in the NUCCA field. They analyze the issues of each patient and give each one a great deal of data on their particular condition. After treatment, I have hope and an active lifestyle where I can enjoy traveling with my husband and playing with my grandchildren. I am very pleased to highly recommend the doctors at HealthSmart.
Jay R.
I had a very successful rugby career playing competitively at the highest levels in the U.S. for 19 years but had my career cut "short" by a car accident. For two years I was in extreme neck pain and was told by top physicians that the only way to fix the problem would be to have surgery. They wanted to enter through my mouth and throat from the front to access the section of my spine that was injured. Needless to say, I was not eager to move forward but the pain was incapacitating and unbearable. I was referred to HealthSmart by a friend with some skepticism but the initial consultation was not only informative but also comforting.
The doctors explained how my body had the strength to heal my injury on its own without any surgery. Within 2 months I was pain-free and after two years I was able to play rugby again at the age of 44. Not only did they help with the original problem but the other discs that had deteriorated from years of abuse, began to reverse the trend and heal. I have two boys so I remain very active and don't plan on slowing down anytime soon. My social rugby and snowboarding careers are just beginning. I highly recommend everyone to read up on NUCCA and go to see the doctors at HealthSmart, the doctors corrected a life-altering injury and I owe them a lot.
Kathy E.
Due to my MS, my sister, who is a patient of Dr. Dickholtz, Sr., convinced me that I needed to see the doctors at HealthSmart. At her urging, I research the NUCCA method and finally decided that it seemed like a perfect complement to working with my world-renowned Homeopath.
My first visit was eye-opening. Pun intended. I walked into the office wearing distance glasses, which I have worn for over 22 years. Walked out without them. I have been a patient for 2-1/2 years and am still not wearing distance glasses, and only wear reading glasses in dark places. Not many 56-year-olds can make that statement. This was definitely a bonus that I wasn't even counting on! When my distance vision begins to blur, I know I need an adjustment. …and, Oh, yes, everything else is working just fine! Thanks, HealthSmart!!
Tami P.
Director of Business Operations, Alan Johnson Racing
I was first introduced to NUCCA nearly 4 years ago. I saw firsthand the miraculous benefits achieved by Tony Schumacher after his crash in the Top Fuel Dragster. He swore by the technique and treatments implemented by the doctors at HealthSmart. Of course I was a skeptic. I thought, how can such a non-evasive adjustment have such dramatic results?
I suffered from lower back pain, hip pain, PMS, anxiety, and headaches. I didn't feel well and didn't know why. I just thought, well, I am in my 30's now I guess this is just the way it is! After being introduced to NUCCA, it was refreshing to know I would never have to feel like this again. No more PMS, anxiety and I feel like my head is screwed on straight….because it is!
My most memorable moment was when I ran into the doctor at the NHRA races in Pomona, CA. I had a wrist brace on and was suffering from Carpal Tunnel. A prominent hand surgeon in Beverly Hills told me surgery would be my only relief. I scheduled to have the surgery on the following Friday. After telling the doctor my dilemma, he said I didn't need surgery. Even after all the benefits I had already received from my NUCCA treatments, I didn't believe him. Long story short, within 15 minutes, I was pain-free, ditched the hand brace and canceled my surgery. Even then I was still worried the pain would come back. It has been over two years and I am still pain-free. Thanks to the doctor, I didn't have to have a $10,000 risky surgery, and months of physical rehab on my dominant hand. What a relief. I can't stress to people enough the benefits of NUCCA. The doctors at HealthSmart are true healers, and I am so lucky to have been introduced to them!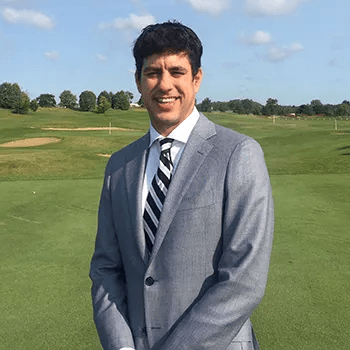 Louis S.
Director of Instruction
8+ years as a Lead/Master Instructor @ the Jim McLean Golf School, Northmoor cc, Highland Park, Ilswingbylou@aol.com
Where do I start…Do I start with how good the doctors at HealthSmart are at putting me back together or they are such good people? Let's start with his work first…I can't tell you how many times the doctors at HealthSmart have put my body back into alignment so I can go back to hitting golf balls and everything else I do that can knock me out of alignment. I always feel like a million bucks after a treatment. But more important I consider the doctor a friend and a great person!!! thanks for all your help and friendship…
Lori Greiner
Host of her own QVC-TV show called Clever & Unique Creations for 11 years, President of For Your Ease Only Inc., invented over 200 products
What a relief and blessing it was to find HealthSmart. I have been staying healthy for over 15 years under the care of the doctors at HealthSmart. I have a high-stress job that requires my frequent travel both nationally and internationally plus working long hours. I create products and sell them in my show on QVC-TV, so I am often carrying props and products and doing things that can throw me out of balance. I love that they put me back into alignment and I feel so much better right away. I can always tell when I am out of alignment because I get very tight in my shoulders, and lower back and even find pain running down my leg. After my adjustment, that all goes away. I also love that I never have to worry that seeing the doctors could make me worse. This special form of chiropractic doesn't involve twisting, cracking, and manipulating, it is so gentle and noninvasive. It is wonderful to know that the doctors at HealthSmart are there.
I highly recommend HealthSmart to everyone I know!
Nicole P.
When we were introduced to HealthSmart my daughter, Alicia, was 8 years old. Our general practitioner referred us to HealthSmart, and we are so grateful he did! Alicia was brushing her hair and complained of pain in her neck. What I thought was a pulled muscle was something much more serious. Within a couple of hours, Alicia's head was tilted 45 degrees to one side. I asked her to put her head straight for me and she replied, "It is straight."
When we brought Alicia to the office her legs were approximately 2 inches uneven. Her condition was diagnosed as Torticollis. This is when the muscles tighten in the neck causing the head to tilt to one side. We were told most doctors would diagnose surgery to cut into the muscle. This was by far the scariest injury I had to deal with as a mother. My daughter's entire visual structure was way off. Alicia was in the office a large portion of the day and the doctors worked toward solving her condition. By the time we left her head was 50% improved! Within a week Alicia's neck and structure were 100% normal!!!! Alicia hardly noticed anything was being done to her. The type of adjustments performed are not invasive, with no cracks, or uncomfortable positions. Words cannot express how grateful my husband and I are to everyone at HealthSmart. Our daughter leads a normal life. If we had seen another doctor I'm not sure what the outcome would have been. It has been 5 years, and Alicia continues her care at HealthSmart along with the rest of my family. Not only was Alicia "fixed", but there was patience, kindness, and compassion during this very scary injury.
Wayne S.
2008 Masters 50-54 National Road Champion
My name is Wayne Simon and aside from being a husband, father of three, and a full-time business owner, I have been an amateur bicycle racer, off and on, since 1984 and have never achieved such high merits as in the 2008 road season. I am the current Masters 50-54 National Road Race Champion and owe a great amount of my success to HealthSmart. To be competitive at age 51, it is very important for me to take great care of my body. Thanks to the doctors at HealthSmart and my spinal adjustments, I have been able to achieve things that even in my peak as a youth never had the opportunity to achieve. As a result, I am in the best shape of my life, being a contender in many Pro and top amateur races against cyclists half my age. As I continue with my competitive cycling career you can count on me to remain a devout supporter of HealthSmart.
Dr. Kerri N.
Heart Light Psychological Services
www.HeartlightPS.com
My name is Kerri Nevin, and in my first trimester with my second son, I developed a herniated disc at L5-S1. The pregnancy was extremely difficult, as I was unable to take any pain medication, and I had constant sciatic pain on my right side. Approximately nine months after the birth of my son and with no relief, a client of mine recommended HealthSmart and NUCCA care. My X-ray showed that my neck was very much out of alignment.
The doctor performed the first adjustment, and as I sat upright, I felt warmth go down the left side of my neck. Over the next couple of months, I began to feel gradual relief from my sciatic pain. One day, I was in my car, and I noticed with great joy that I was no longer in pain while I was driving! I could also sit without pain, which was a tremendous relief, as I am a psychologist and sit with patients for much of the day. I am so grateful for the care that the doctors at HealthSmart have given me, and it is with great confidence that I recommend him to anyone who is struggling with any kind of back or neck pain. NUCCA's gentle and holistic approach has been the best treatment for me and it is with tremendous gratitude that I offer my recommendation for him and his services. Thanks again doctors and staff at HealthSmart!
Bob D.
PGA Lead Instructor North Shore Elite Golf Performance Academy
I first was introduced to HealthSmart by one of the area's top fitness instructors nearly 20 years ago. I had spent years before that working with chiropractors with limited success. After receiving treatment for a few months and seeing a noticeable change in my well-being, I introduced my entire family to HealthSmart. They received the same care and improvement in their well-being as well. Over the next 18 years since my original visit, I sent dozens of students and friends to the doctors at HealthSmart. Nearly every one of those individuals improved their condition as a result of his adjustments to the Atlas bone at the top of their spine.
Now, as not only a PGA Professional for 25 years but also as a Titleist Performance Institute Level 3 Golf Professional, Junior Coach, and Golf Biomechanist I consider the doctors at HealthSmart an integral part of my sports performance team. One of the foundational principles of the Titleist Performance Institute is to surround yourself with the most outstanding individuals in their area of expertise. In recommending HealthSmart and their leadership in Nucca Chiropractic help I have found people that have changed people's lives for many years.
Read below for more success stories!
Wes N.
"I was just about speechless and very emotional thinking about how the quality of life could improve for so many individuals with this treatment."
August 10, 2009
One could only imagine how relieved I was when the MRI revealed only some arthritis in my neck. The six months of sustained headaches sure reinforced something worse. However, knowing this did nothing to minimize, let alone, eliminate my discomfort from the constant headache I was still experiencing. Not until my wife, Mary Anne, suggested that I visit HealthSmart. She reminded me of how the doctors had helped to eliminate her persistent migraines with an "alignment". I remember thinking; "hey I'm not pulling in any particular direction" (you car guys will understand). Just the same, I recall the dramatic and positive change in her mood and demeanor after her adjustment. So I reconsidered and decided it was worth a try.
After a preliminary examination, it appeared that I was a promising candidate for the NUCCA procedure. After some additional pondering, I decided to go ahead and scheduled my first appointment (and I never looked back).
Lying on my left side, I felt light hand pressure on the right side of my neck. And with virtually no discomfort my adjustment took just a few minutes. Upon standing up after the procedure, I instantly knew there was a difference. The subsequent posture evaluation revealed that my initial 4 degrees misalignment had been corrected to 0 (zero) degrees! This part in itself was amazing, but the fact that my headache had completely disappeared was simply phenomenal! What's more was the fact that my head felt effortless to maneuver. It was as if someone had taken lubrication and added into my neck.
You see, at birth, I was a breech delivery and lived with Torticollis (i.e. a shortening or excessive contraction of the sternocleidomastoid muscle in the neck) up until age 17 when I had surgery for the release of a tendon on the right side of my neck that helped to straighten out my head. I hadn't felt this type of ease of motion in a long, long time, let alone the relief from the nagging headache that I had been experiencing for literally 6 months. I was just about speechless and very emotional thinking about how the quality of life could improve for so many individuals with this treatment. I also had a lump in my throat from the gratitude of being helped by a truly outstanding human being. Thank you everyone at HealthSmart. You changed my life for the best!!!
WITH SINCERE GRATITUDE
Nicola A.
"I thank all the staff at HealthSmart for all that they have done to help me and others get to a place of wellness. I'm back to my unstoppable self!"
In the late spring of 2006, I had a serious fall. It was so serious that I was hospitalized for a week, intensive care for a day, and missed the last week of my 2005-2006 school year. Since that fall/head injury I have had vertigo and my migraines went out of control. I am hypersensitive to sounds and light, hypo sensitive to pain, I was passing out, and bouts of being temporarily paralyzed, and I had to see numerous specialists for "heart" problems, thyroid problems, and problems that I had never had before… I was prescribed at least 15 different medications. Prior to the injury, I was scheduled for a hysterectomy. Not one of the doctors would release me to have it. They said that I could die if I was put under!
I have been to numerous doctors that try to find a "cure," but nothing has worked until the spring of 2011. Until then, I assumed that my way of life was going to have to "cope." with the side effects of my head injury.
The only thing that I focused on was my job….it was my livelihood. Which then affected my marriage and relations with others in my life. I couldn't do the things that I was accustomed to doing, I started to gain weight, but I wasn't eating, which put me into serious depressive states. All I did was work, then after work, I would fall apart. I couldn't eat, sleep, or do any type of physical activity, I was in tears every day… wondering what was to become of me. When I got home I stayed in my room.
When I was recommended to go to HealthSmart, I was skeptical, and yet open-minded. I had been going to a chiropractor a year before and discontinued because during one of my visits, the "manipulation" caused me to pass out and be temporarily paralyzed, I was taken to the hospital by ambulance, but I knew at this time that I had nowhere else to go, but up. One thing about being in a state of illness, and seeing a new doctor, was the fear that all of this was in your head… well, it wasn't in my head! My pain and challenges were REAL.
I spent the whole day at the HealthSmart office. When I had my first treatment, I'll be honest, I thought… Oh my Lord, what have I gotten myself into now! Yet, I was very calm. The doctor's demeanor made me feel safe and know that I was at a place that truly knew what I was going through.
My life has totally changed since my first visit, I feel that my life is back on the right track. I still have bouts of vertigo and migraines, but I'm off of all but one of my medications, I'm more focused, confident, and have a better relationship with those around me… I'm not as angry and frustrated.:) I have been able to start a workout regimen, and on nutritional rebalancing system that has helped detox all the garbage from all the medications out of my body.
I thank all the staff at HealthSmart for all that they have done to help me and others get to a place of wellness. I'm back to my unstoppable self! I have my self-esteem back, I have lost most of my unwanted weight, and I am a more productive individual outside of work. I look and feel so great, that my friends are approaching me to find out what I'm doing!
Thank you for all that you've done, I'll be forever grateful….my family thanks you as well! 🙂
Conner D.
"I'm getting stronger now because everything is falling into alignment. NUCCA chiropractors really fix the problem. I've seen a chiropractor my whole life, and I've never gotten the results I've seen with the doctors at HealthSmart and NUCCA care."
GOT CONCUSSION? ONE ATHLETE'S STORY OF HEALING WITH NUCCA CARE
It's an all too common tragedy: a young athlete's career cut short because of repeated head injuries. But it's a tragedy that 19-year-old Conner DeChant has avoided for now, with help of precise upper cervical chiropractic care. "I play football for Benedictine University," Conner told the NUCCA News. "The last month of this season, I took several big hits, and I started getting headaches which did not get any better. I took the concussion test, and was surprised when I got the results: I had a pretty severe concussion."
Conner's concussion symptoms went beyond just headaches. "My school work was suffering. It was difficult to say certain words. My head felt foggy. I would get confused at times. And I had sensitivity to light." This wasn't Conner's first experience with these symptoms. "I received three concussions during my senior year of high school…So, we were worried about not playing football anymore."
Conner's mother is a C.H.E.K. certified exercise coach, and learned from a colleague that NUCCA upper cervical care could help with concussions. "We were looking to see if I could get some relief," said Conner, and "it ended up being just what I needed." Conner and his mother consulted with the doctors at HealthSmart in nearby Northbrook, Illinois. "I was surprised at how much they knew," said Conner of the doctors at HealthSmart, "And how little the adjustment seemed." The results of NUCCA care on Conner's concussion symptoms were unmistakable. "Within two days all my concussion symptoms were completely gone. I was able to think a lot more clearly."
Conner also learned that other aspects of his health could improve with his new upper cervical alignment. "I've had chronic back problems, and that is going away. My form for weight lifting is now better because I'm more flexible. I'm just better all around."
What does Conner have to say about his experience with NUCCA as an athlete?
"I'm getting stronger now because everything is falling into alignment. NUCCA chiropractors really fix the problem. I've seen a chiropractor my whole life, and I've never gotten the results I've seen with the doctors at HealthSmart and NUCCA care."
"This is going to keep me in the sport. Now, I can keep pursuing my love of football."
Nancy S.
"Clearly, the NUCCA Treatment has been life-changing for me. How amazing it is to be transformed from living a life defined by the pain and sickness of migraines and all the accompanying medications, to being freed to live a life with energy and vitality!"
Just like my father before me, I have suffered from migraine headaches my entire adult life. Although I could function professionally with the migraines, I lived and made my way to work with often three to five migraines a week. Sometimes I would experience clusters of migraines that would have a duration of up to two weeks. Over the years dentists have fitted me with mouthpieces. I tried acupuncture. One neurologist gave me high doses of various medications and once seemingly froze my face and neck with "therapeutic doses" of Botox.
It seemed that every intervention eventually made the headaches worse, not better. However, one day last summer someone suggested I see a chiropractor. Then when I told a massage therapist about that suggestion, he said, I should call HealthSmart. "I have many clients who say their lives have been changed by the specialized NUCCA work that the doctors at HealthSmart do," he said. Although I felt I had tried so much over the years already and was very skeptical, how could it hurt?
In August 2013, I presented to the doctors at HealthSmart for an evaluation and a first treatment. As I write a full ten months later, I have only had ONE migraine!
The doctor worked with me at first twice a week, then once a week, then every other week, and continued to taper off the treatments as the doctor would be sure the adjustment was secure and holding. Now I check in at two-month intervals.
I learned over time that in addition to the doctor's treatment of balancing my spine and with the consultation that it was important for me to keep my whole body balanced in every way possible. If I became lazy about exercising, my body would begin to remind me of those early signs of migraine. So I would get busy and get moving. Strength training has become an important part of my life now. If I got sloppy about eating healthy foods, my body would remind me about my need for balanced nutrition. The doctor recommended that I add probiotics to my dietary regimen. My ability to calm and quiet my inner self was monitored and made recommendations so that all systems, including the immune system, would work at maximum capacity. Adding meditation to my life has been an important health practice.
Clearly, the NUCCA Treatment has been life-changing for me. How amazing it is to be transformed from living a life defined by the pain and sickness of migraines and all the accompanying medications, to being freed to live a life with energy and vitality! That lifestyle of health began with such a seemingly simple procedure!
I am deeply grateful to the doctors and entire staff, and I heartily recommend HealthSmart!
Dominick B.
"Thank you HealthSmart as I am totally excited and grateful for the tremendous progress I have had in my health in just a short time from NUCCA and from your HealthSmart facility."
NUCCA has made me a new person!! Thanks a million!
In October of 2004 after being hit on the head by a heavy object became the start of my ailments, I had a left facial sensation and left eye pressure that would not disappear. This feeling made it difficult for me to feel my normal shelf, function properly, drive long amounts of time in a vehicle, be around other people feeling comfortable, and shopping in stores was a horrible experience for me, & the list goes on and on!
Work had become a real chore as I did not feel good and did not want to be around people, so being in sales became a real challenge and suffered each day of work. In the evening I could not wait until after dinner so that I could go to my bed to be alone, and gain relief from the world, this was a horrible feeling for a person who loves being around people and was at one time the life of the party.
In December 2004 I started my journey for help and first visited my internal Doctor who sent me for a brain MRI. No major findings were found.
From 2005 – 2008 I also had the following tests taking which was a second Brain MRI recommended by an Ear Nose & Throat Doctor, (No findings) and a Spine MRI and CAT Scan recommended by one of my Neurologists. Findings = disc generative space C6-C7 & C7-T1, C3 –C4 Minimal annular bulging and physical therapy were recommended. Lastly, I went for several eye tests and special optical tests with no findings.
From 2005 until July 13, 2009, I search for help & relief from the following list of professionals:
2 Neurologist
4 Chiropractors
1 Cranial Message Therapist
2 Ear, Nose, Throat Doctors
3 regular Message Therapist
4 Acupuncturist
3 places for Physical Therapy, which gave me some relief but after the treatment was complete I only had relief for a few days and then came back my symptoms.
1 Foot Reflexology person
2 Ophthalmologist
1 Kinesiology Doctor
……….as you can see I was busy, frightened, and determined to find help!
On Saturday, July 11, 2009, while doing Foot Reflexology from Ryan Lee he mentioned trying NUCCA. That afternoon I went to Google NUCCA Care and found the HealthSmart facility in Northbrook, Illinois, and spent over an hour on the website. I also viewed other websites on NUCCA but felt HealthSmart was a place that I wanted to try and was I correct!
On Monday, July 13, 2009, I went in for a consultation and started care.
On Tuesday, July 14, 2009, I was explained more about the program and was shown the results of my tests from the day before. That first night I had my first NUCCA treatment. That evening I also received a second NUCCA alignment, and upon leaving I noticed my sensation of facial pain was gone immediately and had not returned for 2 .5 weeks now. I still have a little pressure in my left eye but the eye is about 70% better than before.
I had to do another NUCCA procedure on Thursday, July 16, 2009, but in the past 2 weeks, my alignment is holding. I know I will continue to heal and my health will continue to improve each day as time goes on with my Atlas – C1 holding and staying aligned.
Last week I also started working with the Massage Therapist at the HealthSmart facility for some additional therapy which he is directly working on my neck (Atlas C-1) and spine issues that I had found from my spine MRI and from the test that was performed found from the X-Rays on July 13th.
After my first session from what the Massage Therapist accomplished last week I am truly excited and optimistic this will make my recovery even quicker and put me back to the happy and fun guy I once was. Monday, August 3rd will be my second Therapy session with the Massage Therapist and I can not wait to see some additional positive results from that treatment.
Lastly, the office staff is very helpful and knowledgeable.
Thank you HealthSmart as I am totally excited and grateful for the tremendous progress I have had in my health in just a short time from NUCCA and from your HealthSmart facility.
Thanks also for your hospitality as in a short period of time I feel like part of the HealthSmart family and feel like I have known this team of professionals forever!